ST. MICHAEL'S SCHOOL (SMS) IS AN ENGLISH MEDIUM SCHOOL WHICH PREPARES THE STUDENTS FOR THE CBSE BOARD.
SMS was established in 1996 and has grown to be a school of stature in the last twenty four years. The school promotes respect, consideration, fairness and academic excellence along with holistic development.
The school programme is designed to foster the academic, emotional, physical, spiritual, aesthetic and social growth of its students.
The rich learning experience which the school seeks to provide, develops the full potential in each student, generates intellectual curiosity, develops a logical and scientific temper and nurtures understanding, tolerance and respect to the diverse cultures inherent in the school community.
The school is governed by a Board of Directors. The Board has two major responsibilities.
a) Adopting basic policies.
b) Ensuring the financial viability of the school.
c) Decisions of the Board are regulated by the Articles of Association and Bye-laws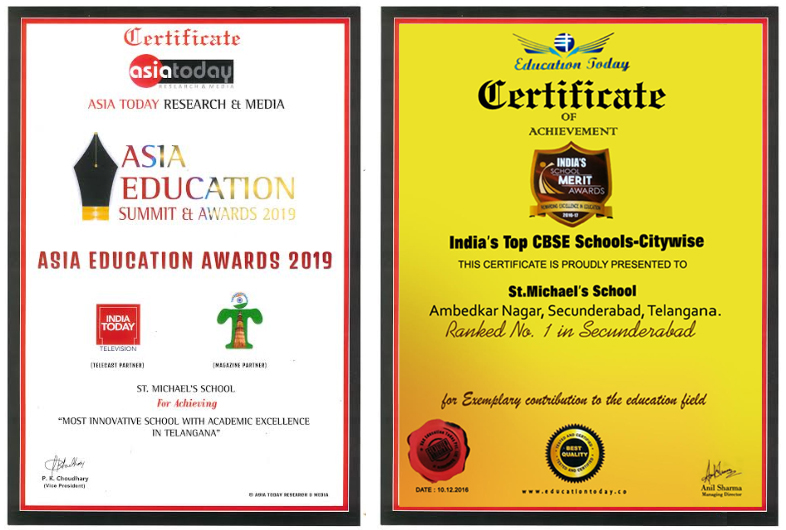 SCHOOL MOTTO
"Let Your Light Shine"
This means that we need to exploit the full potential which lies dormant in the child and teach them to use to advantage to become successful and also help society and the nation at large to progress in the right direction.
---
MISSION STATEMENT 2022
1. Enhance Collaborative learning through the "Buddy" programme, and thus raise the academic performance of all the students, wherein the children who are toppers will help the children who are weak in a particular subject and bring them on par with them.
2. Enhance Interactive learning by integrating technology in education through various presentations in order to cater to the needs of all learners, be they visual, auditory or kinesthetic learners.
3. Make sure that every child is confident and excels in communication by providing support and holding "Self awareness" programmes.
4. Improve the health and sanitation levels around the school through various programmes like talks on "Health & Hygiene" and activities like " Swach Bharath".
5. Create environment awareness among students and take measures to reduce carbon footprints by planting at least 2000 trees by 2022.
6. Work towards achieving 100% literacy through "Adult Literacy" programmes and encouraging all children in the community to go back to school, in order to eradicate illiteracy in the region by 2022.
7. Create social awareness through the production of short video clips in English and the local language and work towards "conflict resolution" and peace.
8. Help the under privileged schools in the neighbourhood by providing material, emotional and intellectual support, thereby fulfilling the ideals of socialism.
VISION STATEMENT
To be a choice school that excels in nurturing students, to be valuable and morally upright citizens of tomorrow, who are ready to take on global challenges.
Our Leadership
The leadership of St. Michael's School